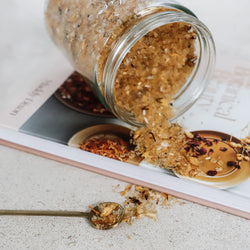 The Collective Berridale
Boheme Bath Crystals - Ethereal
With a base of Epsom Salts, Ethereal Crystals are the perfect way to wind down after a big day. Epsom Salts are made from Magnesium Sulphate, a powerhouse mineral our body relies on for almost every bodily function. The magnesium in our Ethereal Crystals helps to control the brain's mood receptors, supporting relaxation and deep sleep. 
The combination of Calendula extract and Chamomile powder work to soothe and improve the appearance of your skin, leaving you feeling refreshed and glowing naturally. 
Our Ethereal crystals are also infused with a unique blend of ayurvedic and siddha medicinal oils, curated for their relaxation and healing properties. 
Epsom Salt, Calendula extract, Chamomile Powder, Lemon Myrtle Essential Oil, Nag Champa Oil, and a blend of dried organic Calendula, Chamomile, Chrysanthemum flowers and Jasmine buds.