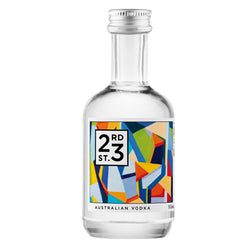 The Collective Berridale
23rd Street Distillery Australian Vodka 50mL
The perfect addition to any hamper!
Vodka five times distilled, and charcoal filtered from slow-fermented fairy tears and true loves first kiss. Or was it sugarcane? Bright as a January sunbeam with a hint of residual sweetness.

Due to liquor license restrictions alcoholic beverage products can only be purchased as part of a gift hamper being delivered by us or by post to a recipient. These items are not available in store and cannot be ordered for local collection.