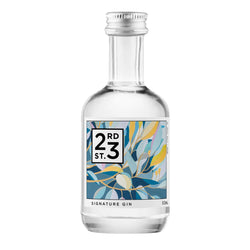 The Collective Berridale
23rd Street Distillery Signature Gin 50mL
The perfect addition to any hamper!
You're trying to be nonchalant with your sophisticated botanical gin but all the while tiny explosions of Riverland sunshine tickle your palate. It's the underlying citrus from fresh local mandarin and lime that makes 23rd Street Gin a particularly jovial drop.
Due to liquor license restrictions alcoholic beverage products can only be purchased as part of a gift hamper being delivered by us or by post to a recipient. These items are not available in store and cannot be ordered for local collection.