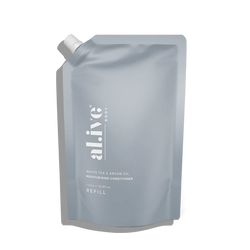 The Collective Berridale
Al.ive Moisturising Conditioner Refill - White Tea & Argan Oil
The al.ive body White Tea & Argan Oil Moisturising Conditioner Refill contains a luxurious blend of naturally derived ingredients, fortified with essential oils and native botanical extracts.
The 1ltr refill replenishes your Moisturising Conditioner twice. Our 1L refill pouches are designed to refill your existing al.ive body bottles whilst helping to reduce the amount of plastic used. Our refill pouches use 85% less plastic and refill your 500ml al.ive body bottle twice.
The al.ive body Australian made hand, body & hair range combines product purity with designer aesthetics to stimulate your senses and shape your surroundings.
Our Shampoo & Conditioner is proudly made with no silicones or sulphates. Silicones can cause a build up, preventing nutrients from targeting the hair, leaving it dry and damaged. Sulphates can strip the hair of natural moisture and compromise colour treated hair.
This expertly craftedMoisturising Conditioner is infused with nourishing Argan Oil and antioxidant-rich White Tea Extract to cleanse and moisturise the hair.