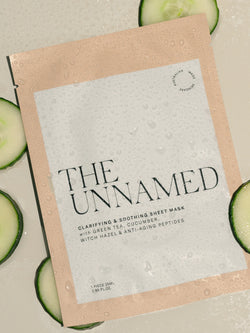 The Collective Berridale
The Unnamed Clarifying & Soothing Sheet Mask
What is it?

Is your skin feeling sensitive, irritated or inflamed? Our new Clarifying & Soothing Sheet Mask is just what you need to calm inflammation, reduce redness & soothe irritated skin. 
Why is it unique?
This mask is specially formulated to be both clarifying AND soothing. It gently exfoliates the skin & refines pores without being drying, harsh or irritating. Anti-oidant rich green tea extract, calming cucumber & caffeine work together to soothe irritation & reduce inflammation to leave the skin looking clear & feeling calm.
All our masks are made right here in Australia with proven ingredients, and you never have to choose between instant or long-term results.