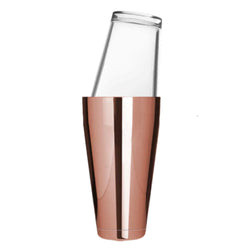 The Collective Berridale
Copper Boston Cocktail Shaker
Effortlessly combine your ingredients together with this lightweight, sturdy copper plate cocktail shaker. Its copper plating is truly stunning and makes a great gift for a special someone. 


Quantity: 1
Material: Stainless Steel and Glass

Colour: Copper Plating
Height: 168mm
Top Diameter: 91mm
Weight: 244g

We recommend hand washing only.