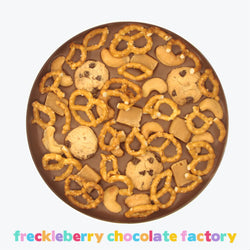 The Collective Berridale
Giant loaded pizza- Snack Time
The base is made with delicious Belgian milk chocolate, with a mouth watering mix of pretzels, choc chip cookies, caramel fudge and salted cashews loaded on top. 
You can't go wrong with this Loaded Pizza, perfect for a gift or to keep all to yourself!
Product: 18cm diameter, weight 280g. Box: 21x21cm.