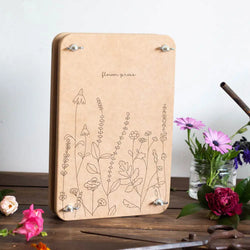 The Collective Berridale
Giant WildFlower Flower Press
Introducing our giant sized Flower Press.
At 20cm x 30cm tall, this press is twice the size of our standard large Flower Press and three times bigger than our mini flower press.
Now you can fit a lot more of your favourite blooms on each sheet of cardboard. We recommend the use of sheets of paper between the cardboard sheets to protect the cardboard and ensure the lines from the cardboard sheets don't imprint on your pressed flowers.
Featuring an original illustration by Melbourne artist Daniella Germain depicting wildflowers picked from our garden.
This is the perfect Flower Press for serious crafters and ecologists and the perfect gift for preserving special floral memories.
Each press is hand crafted in Australia out of hard-wearing materials to ensure stable pressure & long-lasting use.
Includes: Engraved top and bottom MDF backing boards, 5 cardboard separating layers, nuts and bolts.
Dimensions: 198mm wide, 298mm tall, 60mm deep
Designed and made in Australia