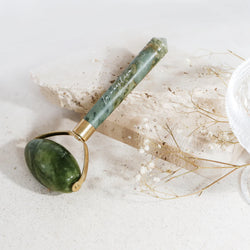 The Collective Berridale
Jade Crystal Face Roller
Inspired by traditional Chinese healing rituals, our modern face rollers are specifically designed to reduce puffiness, calm and tighten skin. 
 Jade rollers are celebrated as a quick, effective and simple way to:
Promote smooth, youthful skin
Restore the skin's natural elasticity and brightness
Reverse visible signs of aging, including fine lines and wrinkles
Stimulate circulation, reduce fluid and improve lymphatic drainage
Each roller is hand carved from authentic Jade crystal. Rollers may vary between 4-6cm width, and range from 12-20cm long. 
Due to the handmade nature of each product, rollers will vary in size, weight and colour. The ratio of white to green jade will also vary, though the colour does not indicate a difference in quality or purity of Jade used.