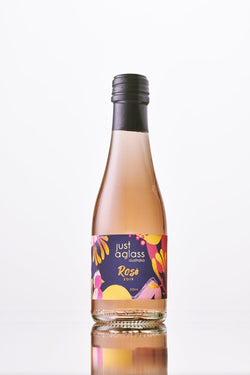 Just a Glass
Just a Glass Rosé
Just a Glass Rosé has all the warmth and familiarity of an old friend. A smooth introduction carrying a subtle sweetness with hints of rhubarb and rosewater. A light bodied wine that is best served chilled.
Pair Me:
Just a Glass Rosé has a soft and subtle nature meaning it can pair with seafood as easily as with red meat. It's just as at-home next to a sweet raspberry, pistachio and chocolate tart as it is with a hearty homemade gnocchi.
Enjoy premium Australian made and owned, low preservative, vegan wine, curated for the lovers of just a glass.
Due to liquor license restrictions alcoholic beverage products can only be purchased as part of a gift hamper being delivered by us or by post to a recipient. These items are not available in store and cannot be ordered for local collection.