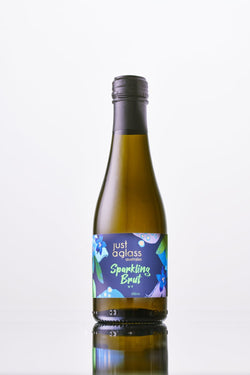 Just a Glass
Just a Glass Sparkling Brut
Just a Glass Sparkling Brut is inviting and bold with a hint of creamy smoothness and zesty green apple. A dry, light bodied sparkling best served chilled.
Pair Me:
Just a Glass Sparkling Brut is perfect for afternoons with friends surrounded by plates of Brie-style cheese or sweet bread and mascarpone. It goes hand-in-hand with shellfish and oysters but we dare you to be different and try with butterscotch pudding or buttered popcorn.
Enjoy premium Australian made and owned, low preservative, vegan wine, curated for the lovers of just a glass.
Due to liquor license restrictions alcoholic beverage products can only be purchased as part of a gift hamper being delivered by us or by post to a recipient. These items are not available in store and cannot be ordered for local collection.