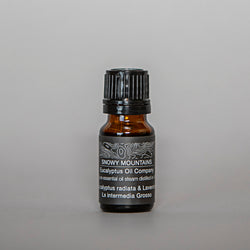 The Collective Berridale
Snowy Mountains Eucalyptus & Lavender Essential Oil
The aromatic and therapeutic benefits of our Eucalyptus and Lavender oils compliment each other beautifully in this bottle of essential goodness.
Grown and distilled in the Snowy Mountains.
100% pure Eucalyptus radiata (narrow-leaved peppermint) and Lavender Lx intermedia Grosso essential oil.
Steam distilled by hand in Australia. Vegan friendly.
10ml amber glass bottle with drip top applicator.
SUGGESTED USES
Diffuse to relieve tension and anxiety ~ Antibacterial aid ~ To reduce skin irritations, itching and swelling ~ To ease insect bites ~ Anti-inflammatory ~ Relieve headaches ~ For a soothing bath ~ A natural deodoriser ~ Antiseptic ~ May provide relief from congestion, allergies, asthma and sinusitis ~ A natural acne treatment ~ Foot soak and deodoriser
CAUTION Even when combined with lavender oil, concentrated eucalyptus oil and vapour remains flammable and care should be taken at all times. Eucalyptus oil is a volatile material and should be stored in a cool area, away from heat and light. Concentrated oil should be diluted before use. For external use only, do not ingest and avoid contact with eyes. Skin test diluted oil before use for potential allergic reactions. Pregnant women, children and those with medical conditions should discuss applications with a qualified aromatherapist, or physician before use.