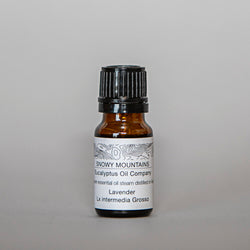 The Collective Berridale
Snowy Mountains Lavender Essential Oil
Sweet dreams are never far away with a drop of our pure lavender essential oil on your pillow.
Grown and distilled in the Snowy Mountains,
Lavender is wonderfully versatile and has been used since ancient times in traditional herbal medicines, tea infusions, to repel insects and as an incense ingredient.
100% pure Lavender Lx intermedia Grosso essential oil.
Steam distilled by hand in Australia. Vegan friendly.
10ml amber glass bottle with drip top applicator.
SUGGESTED USES
Diffuse to calm, relax, relieve tension and anxiety ~ As a sleep aid ~ To reduce skin irritations, itching and swelling ~ For motion sickness ~ To ease insect bites ~ Aid healing cold sores ~ May assist to heal wounds and scarring ~ Relieve headaches ~ For a soothing bath ~ A natural deodoriser ~ May assist hair growth ~ May provide relief from allergies ~ Freshen linen and clothing ~ A natural acne treatment
CAUTION Store in a cool area away from heat and light. Lavender oil is generally considered to be safe for topical use. However , care should be taken at all times when using concentrated essential oil. It is recommended that pure oil be diluted before use. For external use only, do not ingest and avoid contact with eyes. Skin test diluted oil before use and for potential allergic reactions. Pregnant women, children and those with medical conditions should discuss applications with a qualified aromatherapist, or physician before use.