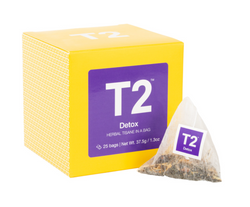 The Collective Berridale
T2 Detox Tea - 25 Teabags
Been a little naughty?
Atone for your sins and rebalance your system with a detox tea that will spruce you up from the inside out.
A sweet medley of herbs, berries and leaves will have you feeling radiant and well-digested in no time.
Sweet, fresh and minty, it's a health retreat in a cup.