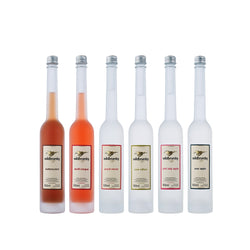 The Collective Berridale
Wildbrumby 100mL 18.5% Schnapps
Wildbrumby's luscious schnapps in miniature form as a very special gift for a special someone!
These unique 100ml custom-made frosted bottles house the most delicious schnapps you will taste! 

Available in a range of flavours. 
Due to liquor license restrictions alcoholic beverage products can only be purchased as part of a gift hamper being delivered by us or by post to a recipient. These items are not available in store and cannot be ordered for local collection.